Hi everyone! We have some really exciting news to share. Wheeler del Torro and his most recent cookbook, The Vegan Scoop, was featured on CNN today! Please be sure to check it out & share the article with others!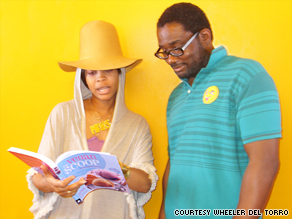 (CNN) -- When chef Wheeler Del Torro found out that singer Erykah Badu was a vegan, he knew he had to get her his ice cream.

The founder of Wheeler's Frozen Dessert Company, Del Torro creates custom vegan flavors that have attracted a pretty cool fan base, including a few rappers who have indulged in his $7,000 champagne flavor, made with vintage Dom Perignon and sprinkled gold flakes.

After reading about Badu's vegan lifestyle, Del Torro shipped her some of his product but never heard back. When fate found them both in the same city, he jumped at the chance to meet her ..."
Full article can be read
here
.
Thank you for your continuous support!